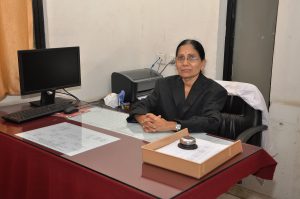 Dr. (Mrs.) Manasi H. Kathaley (M.D. Obst. & Gynaec.)
The department of Obstetrics & Gynaecology is committed to providing world class teaching learning and clinical services to the society under the auspices of Board of Governors and Maharashtra University of Health Sciences. The department has always looked to improve the teaching learning experience with all the faculty being trained in basic medical education technology and few staff members trained in Advanced met and CISP.
The department conducts regular journal clubs, case presentations, seminars, self-directed learning, group discussions, inter-departmental meetings, etc. The interdepartmental meetings are usually a root-cause analysis exercise for improvement in services and management of cases.
The department is committed to the MVP`s logo of "Bahujan hitay and Bahujan sukhay" and regularly participated in multi- diagnostic camps, pap smear camps, Covid-19 swab taking camps. It also provides free referral services to the hospital and free obstetric care.
The department under the auspices of the college and MVP provides free labour and delivery, LSCS, abdominal and vaginal hysterectomy, laparotomy for patients. It also provides for low cost endoscopic surgeries to the community while at the same time providing a learning environment for the PG residents and MBBS students.
The department always take part in research projects, drug trials & ICMR projects etc. All the faculty members actively participate and guide the Undergraduate and postgraduate students in their research projects.