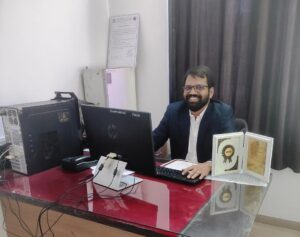 Dr. Nilesh Hiraman Chaudhari (M.D. Radiology)
The department of Radio-Diagnosis at Dr. Vasantrao Medical College and Research Centre is committed in providing the best care to our patients and the community as a whole through diagnostic imaging and image guided interventional procedures.
In our department we strive for excellence in education, research and clinical care. Our team includes 12 faculty, 13 technical staff and 4 administrative staff. Our department is equipped with state of the art imaging equipment including 1.5 Tesla MRI and 128 slice CT scan machines. We also do various diagnostic and therapeutic vascular and non-vascular interventional procedures in Cathlab.
I can proudly say that, our Radiology department is highly committed & capable in providing efficient and quality round the clock radiological diagnostic services to patients from all departments and thus acting as backbone to our tertiary care hospital. We perform yearly around 2 to 2.5 lacs radiological investigations which include MRI, CT scan, USG and X-rays.
We comply with PCPNDT act while doing obstetric ultrasound and we also do awareness regarding gender equality among general public through skit, posters and patient counseling. Our department is dedicated to the welfare of the society by means of awareness programs, poster presentations and skit enactments. Various schemes and other welfare programs including the use of mammography for breast cancer screening, free of cost obstetric/antenatal scans and other imaging modalities and interventional procedures at subsidized rates have also been implemented, to mention at the least.
Our residency programme offers tremendous experience in wide variety of radiological and interventional procedures. We have a diverse and talented faculty and a tremendous clinical material to learn from. The curriculum for postgraduate students includes a wide array of different learning methodology, including lecture series, presentations, seminars, journal club, case discussion, with timely assessments in the form of internal examinations. The conduct of inter and intradepartmental meetings, research projects, machine handling and maintenance of library, etc. help further one's administrative skills and understanding of an integrated approach.
We play important role in undergraduate medical education by conducting weekly lecture series with interactive sessions for our undergraduate students.