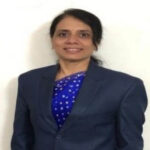 Dr. Sunita Sankalecha (M.D. Anaesthesiology)
The department of anaesthesia is dedicated to combine academic training, research and to provide excellent patient care. We are instrumental in training the post-graduate resident doctors in the field of anaesthesiology, critical care, pain management and resuscitative procedure. We also provide knowledge about anaesthesia and resuscitative measures to UG students and paramedical personnel's.
We strive to spread awareness among the general public regarding anaesthesia.
We provide proper perioperative care of patient and also provide adequate post-operative analgesia.

 

We conduct teaching for – USG guided nerve blocks and difficult airway management by using LMA , fiber-optic intubating laryngoscope .
We have a functioning unit for pain clinic.
We have 12 AC operation theatres, one dedicated anaesthesia OPD and pain clinic.
We have a library with books, national and international journals, E-learning facilities.
We also conduct webinars and Google classroom.

 

We conduct seminars, journal clubs, lectures, micro-clinics and case presentation for PG students as per schedule.
We conduct 20 lectures and 15 days clinic for 8th semester UG students.