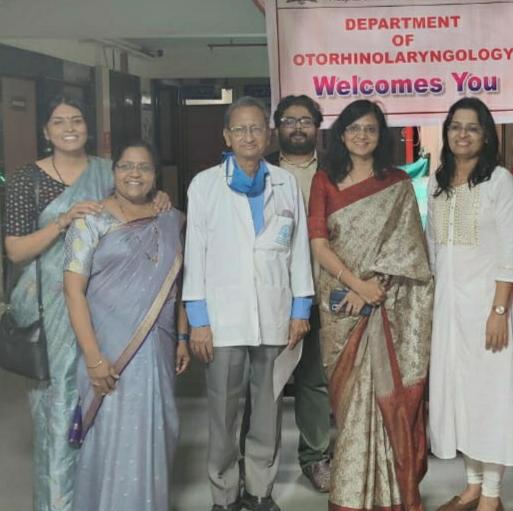 Goal & Objectives
GOAL:
Goal for UG Students:
The Broad goal of teaching Otorhinolaryngology to undergraduate students is to provide comprehensive knowledge of anatomy, pathophysiology of various diseases, clinical signs and symptoms of various diseases of otorhinolaryngology and to make them competent enough to diagnose and treat the common ailments of otorhinolaryngology.
Goal for PG Students:
The broad goal of teaching otorhinolaryngology to post-graduate students is to provide in-depth knowledge of surgical anatomy, hands-on experience of various ear, nose, throat and head-neck surgeries, to make them competent enough in research methodologies and  to deal with basic and advance ailments in Otorhinolaryngology and Head Neck surgeries and to make them compassionate surgeons with good communication skills and to sensitize them to various Medicolegal aspects.
EDUCATIONAL OBJECTIVE: (Under-graduate)
At the end of the course student shall be able to
Comprehend the normal surgical anatomy and pathophysiology of otorhinolaryngology and diseases pertaining to it.
Demonstrate adequate history taking in patient of having ailment related to otorhinolaryngology.
Perform adequate otorhinolaryngological examination using proper instruments and technique.
Diagnose the clinical condition and provide adequate treatment plan.
EDUCATIONAL OBJECTIVE (Post Graduate)
At the end of postgraduate training the student should be able to
Practice his specialty ethically keeping in mind the requirement of the patient,
community and people at large.
Demonstrate sufficient understanding of basic sciences related to his specialty and
be able to integrate such knowledge in his Clinical practice.
Diagnose and manage majority of conditions in his specialty (clinically and with the
help of relevant investigations)
Plan and advise measures for the promotive, preventive, curative and rehabilitative
aspects of health and diseases in the specialty of ENT.
Should be able to demonstrate his cognitive skills in the field of ENT and its
ancillary branches during the formative and summative evaluation processes.
Play the assigned role in the implementation of National Health Programs
Demonstrate competence in basic concepts of research methodology and writing
thesis and research papers.
Develop good learning, communication and teaching skills.
Demonstrate sufficient understanding of basic sciences and the clinical applications
related to the specialty to be able to integrate this knowledge into Clinical practice.
Acquire in-depth knowledge in the subject including recent advances.
Demonstrate that he is fully conversant with the latest diagnostics & therapeutics
available.
Knowledge of the common Otorhinolaryngological (ENT) emergencies and problems.
Ability to recognize, diagnose and manage common ENT emergencies and problems in primary care setting.
Ability to perform simple ENT procedures as applicable in a primary care setting.
Ability to recognize hearing impairment and refer to appropriate hearing impairment rehabilitation Programme.